Brooks Koepka Wins The PGA Championship 2023
ROCHESTER, N.Y. – Brooks Koepka looked like he was going to take command of the PGA Championship after he made three consecutive birdies early in Sunday's final round. Instead, his hot start set the stage for a dramatic duel that lasted much of the final round at Oak Hill Country Club.
Koepka, who began Sunday with a one-shot lead, pulled three ahead with birdies on Nos. 2-4. The first two came on 4-footers after he knocked approach shots stiff, and the third was from just 9 feet.
It looked like the Koepka of old, the one who won four majors from 2017-19 and seemed invincible in the game's biggest events. But he had to hold off a determined Viktor Hovland to win his fifth major and third PGA Championship.
It wasn't until a three-shot swing on the 16th hole that Koepka's victory at Oak Hill seemed certain. That put him four shots ahead with two holes remaining. Koepka went on to win by two, shooting a final-round 67 to finish at 9-under 271. Hovland finished second, as did Scottie Scheffler.
"This is probably the sweetest one of them all because all the hard work that went into this one, this one is definitely special," said Koepka, who battled injuries between this victory and the 2019 PGA Championship.
Hovland's double-bogey on 16 came after he drove into a fairway bunker, then failed to get his second shot out of the sand trap. Koepka made birdie on that hole.
Hovland hung tough throughout the day, however, even when Koepka made his early move.
Hovland also birdied the fourth hole, then picked up a shot on Koepka on each of the next two holes. The first came when Hovland made a 17-foot birdie putt on the par-3 fifth. Then he saved par from a bunker on the long, par-4 sixth while Koepka drove into the hazard and made bogey.
Hovland got up-and-down to save par on three of the front nine's final four holes, displaying a short game that belied the standard scouting report for the Norwegian.
Hovland and Koepka each shot 34 on the front nine, allowing Koepka to keep his one-shot advantage. He started the back nine with two birdies and a bogey to take a two-shot lead but Hovland's birdie at the par-5 13th put him back within one shot. Koepka had to make a 10-foot par putt on that hole just to maintain his lead.
After holing that 10-foot birdie putt at 13, Hovland made one from 8 feet to match Koepka's birdie at the drivable 14th. Hovland was still just one back when they arrived at the 16th hole. Oak Hill became Koepka's stage after that. He made amends for the Masters, where he lost a 54-hole lead to Jon Rahm.
"I just learned I knew what I did in Augusta. I spent the whole night thinking about it," he said. "I knew what I did and I knew I was never going to come out and think that way again. Didn't do that."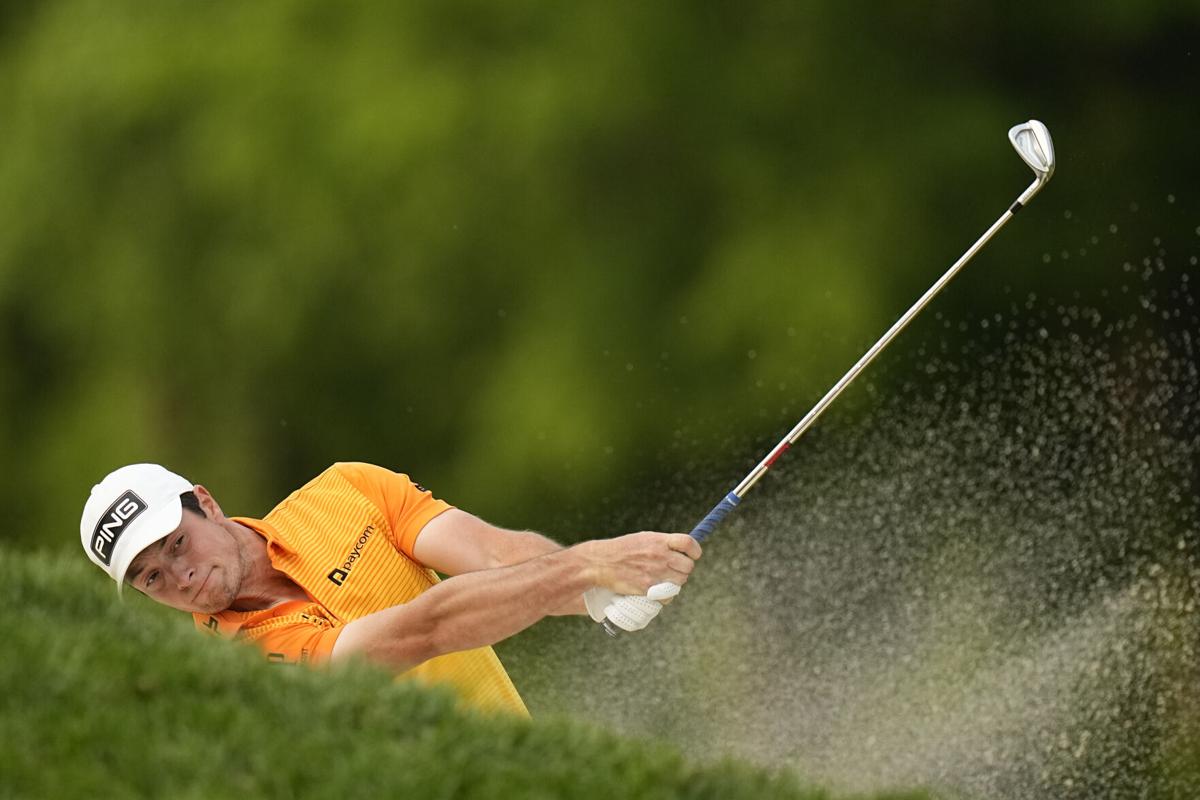 STORYLINES
Bunker shot sinks Hovland's chances: Standing in a fairway bunker on the par-4 16th, Hovland looked down in shock. The young Norwegian had gone toe-to-toe with Koepka all day and was just one shot down.
But as he stood there, his hopes of winning his first major championship were all but lost. After his tee shot found the bunker, he attempted to hit a 9-iron out into safety. But the ball came out with a lower trajectory than intended and embedded into the wall of the rough right front of the bunker.
"Just didn't get out of the bunker," an exasperated Hovland said after the round.
Hovland was forced to punch out and failed to get up and down for bogey. The result: his first double bogey of the week. Meanwhile, Koepka stuck his approach to 5 feet and made the putt for birdie. From within one shot to down four with two holes to play.
It was a brutal blow in what was otherwise a near blemish-free round for the 25-year-old. Both Hovland and Koepka were 3-under for their rounds up to that point, with Hovland fresh off birdies on 13 and 14 to get within a shot.
It also seemed to be a material change for Hovland following his last two Sunday performances at majors. Hovland carded final-round 74s to shoot himself out of both the Open Championship and the Masters.
With three holes to play on Sunday, Hovland had given himself a great chance to win his first major. The bunker shot ensured he would have to wait a bit longer.
"It sucks right now, but it is really cool to see that things are going the right direction," he said. "If I just keep taking care of my business and just keep working on what I've been doing, I think we're going to get one of these soon."
The 25-year-old made a birdie on the par-4 18th to get into a tie for second at 7-under, his best career finish in a major. He's finished inside the top 10 in each of the last three major championships.
Scheffler's Saturday looms large: It's hard not to wonder what could have been for Scottie Scheffler. The No. 2 player in the world held a share of the lead after 36 holes and, given the exemplary stretch of golf he's played on the PGA TOUR this season, there was little reason to assume he would falter on the weekend.
To that point, he had made just two bogeys all week. On the front nine of his third round, Scheffler carded four of them leading to a 3-over 73 and a four-shot deficit entering the final round. That Scheffler shot a final-round 65 to finish 7-under overall and in a tie for second only added to the reminder of what Saturday cost him.
"It's really hard to play four rounds under par, and if you do, usually you're holding a trophy at the end. If I would have done that, that's where I would be this afternoon instead of going home with second," he said.
Scheffler made his best effort to get back into contention Sunday, making the turn 1-under on his day then carding birdies at 10, 13, 14 and 18 to give Koepka something to think about down the stretch. Two lipped-out putts on the first and ninth holes cost Scheffler the strokes needed to tie Koepka.
"The putts have to fall in to win the tournaments," he said. "I hit a lot of good putts this week. They didn't fall, but I put up a good fight."
Block party bonanza: Oh to be a fan on the par-3 15th green when Michael Block stood on the tee Sunday afternoon. Waiting to get a glimpse of the PGA professional who has taken the golf world by storm, fans were treated to Block's latest moment of magic as the 46-year-old dunked a 7-iron from 151 yards out for a hole-in-one.
The improbability of the moment would seem unbelievable until you realize that nearly everything Block has accomplished this week has felt improbable. Block was the only club pro to make the cut at a difficult Oak Hill. He kept his composure after a shank on Friday afternoon and went off in the fourth-to-last group on Sunday alongside four-time major champion Rory McIlroy.
So when his ball flew straight into the cup for an ace on No. 15, it actually felt fitting. After the week Block has had, why not add an ace to it?
Flash forward an hour later and the ramifications of the ace loomed large. Block dropped a shot on the par-4 16th to fall back to 1-over. He needed to stay there in order to finish inside the top-15 and earn an automatic qualification into the 2024 PGA Championship. After a par on 17, Block found the right rough with his drive on 18. His approach shot landed in the rough 30 yards left of the green with a bunker in between him and the pin. Block pitched a wedge perfectly over the bunker to 7 feet then drained the putt to finish in a tie for 15th.
It's the third-best finish by a club professional in PGA Championship history. Lonnie Nielsen finished in a tie for 11th in 1986 – as did Tommy Aycock in 1974. Block is the first club professional to finish inside the top 40 since 2005.
Jordan Spieth's PGA pursuit continues: More than five hours before the final group walked up the 18th green, a man in desperate search of a PGA Championship victory was tapping in for his par.
As much as Jordan Spieth has accomplished in his career, a PGA Championship win eludes him. This week at Oak Hill was Spieth's seventh attempt at completing the career grand slam – a feat he's been trying to finish off since he won his fourth major, the 2017 Open Championship, at the age of 23.
This never felt like Spieth's week, however. In the lead-up to the tournament, it was unknown whether he would even play after he withdrew from last week's AT&T Byron Nelson with a wrist injury. Rehab replaced his preparation, leading to a relatively innocuous week. He shot 73-72 over the first two rounds to make the cut on the number, then played the weekend 71-69 to finish 5-over.
"It wasn't really a wrist thing as much it was just a lack of preparation," Spieth said of his play.
His next chance for the grand slam will come at Valhalla Golf Club next May. Only five golfers have completed the career grand slam.
Career-best finishes for a trio of TOUR winners: Before this week, a look at the combined resumes of Sepp Straka, Cam Davis and Kurt Kitayama showed just one top-30 finish in a major (a T28 finish by Straka at the 2019 U.S. Open).
That is until each of them fired 5-under rounds of 65, the lowest scores of the week, to vault up the leaderboard at Oak Hill. Kitayama and Davis finished at 3-under with Straka just one stroke behind at 2-under. They will all finish inside the top 10 for the first time in a major.
With conditions slightly easier on Sunday, each player took advantage of ample scoring opportunities. Straka made eight birdies, Kitayama made six and Davis added four birdies and an eagle on the par-4 14th.
"To build off this one going into the other majors, every time you have a really good round under tough conditions, it's just another little positive voice in the back of your head that, yeah, I can do this even when it's difficult, even when the rough is really deep and the pins are tight and firming up quick and you can still play really good golf and make a score especially toward the end of a major," Davis said. "That's where I want to be. I'd love to win one or more of these for sure. You know, this is just one more step towards that goal for me."
*Credit Information www.pgatour.com